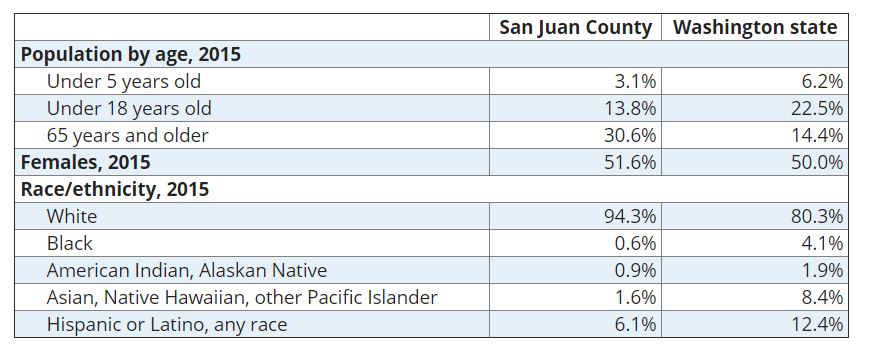 EMPLOYMENT IN SAN JUAN COUNTY
By Minnie Knych
employment expert and small business operator
According to the latest labor statistics from Employment Security, in the month of August, San Juan County has the lowest unemployment rate in the state at  2.9%. Employment Security estimates that our working population is 9,092 with 8,827 of those employed. leaving only 265 people looking for work.
When the percentage of unemployed dips too low, those who are seeking employment are likely not to have the skills needed for the jobs that are open.  That has been the case in San Juan County for some time.  Local employers tell me that this has been one of the most difficult summers to find employees.
Here's a snapshot of how we earn a living in San Juan County.  The government listing includes county, state and federal employees in San Juan County.
This chart illustrates how we earn a living in San Juan County.  The numbers are from 2015.
There has been much discussion lately that the job vacancies are because we don't have enough "low income" housing.  Yes, we do live on islands and so land is limited and housing may be more expensive than in Skagit County.  There are several other factors to be considered.
The most critical need for employees is tourist season employees in the tourism related business. Over the last few years that shortage has become more critical due to the fact that there a smaller percentage of students are working in summer jobs and the application for temporary visa workers has become more restrictive.
There is a shortage of trained tradesmen: plumbers, mechanics, electricians, etc. San Juan County is not alone in this.  The shortage is nationwide.  Over the last several decades, high schools have phased out the old "shop" classes in favor of more technology classes.  That's good because technology is the future.  It's bad because students don't learn how to fix things any more.  In addition, the trend for students from San Juan County is to apply to a four-year college instead of a technical school.
Recently the Economic Development Council offered a free class for those who would like to learn basic plumbing and electrician skills.  One person signed up so the class was cancelled.   More housing will not solve these problems.   Since the class was offered for local residents, affordable housing one can only assume that housing is not the reason.
In the 2017 Annual Economic Profile of San Juan County, regional economist Anneliese Vance-Sherman, states, "On an annual average basis, from 2008 to 2010, Washington state and the United States each lost an estimated 5 percent of their respective employment bases. San Juan County lost about 11 percent of total nonfarm jobs from 2008 to 2011. In short, employment losses were deeper and the downfall was longer than for either the nation or the state."
(Source: https://esd.wa.gov/labormarketinfo/county-profiles/san-juan )