Fellow Republicans your support is urgently needed!
By Mike Gallagher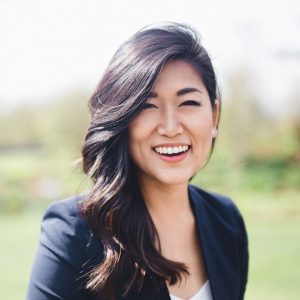 Picture: Jinyoung Englund
Jinyoung Englund is the GOP candidate for State Senate in the 45th Legislative District special election.  A Woodinville resident, Jinyoung is a graduate of the University of Washington, a tech entrepreneur, and the daughter of Korean immigrants.  Her husband is an active duty U.S. Marine officer with 17 years of service.
This seat was held by Andy Hill who tragically died last year of cancer.  Dino Rossi was appointed to serve during the current legislative session. Now a Republican victory is essential to keep our 25-24 Republican majority in the State Senate. Otherwise, Jay Inslee and his Democrats will get the INCOME TAX they want!
From Englund's website: 
"I'm the daughter of immigrants, a second generation military spouse, and entrepreneur. We are both proud alumni of the University of Washington who believe in paying forward the opportunities we have been afforded as Americans.
Growing up, Geoff and I were taught to work hard, think twice before complaining, and to make the most of what we have. As a result, we learned to be resilient, scrappy, and work collaboratively. If you're a parent, student, or a professional, these skills may be familiar to you as well.
The power of local government is the ability to solve real problems that directly affect our community. As your state senator, I am committed to listening, focusing on issues that matter, and reaching across the aisle to design innovative solutions that directly impact our lives.
It's up to us to ensure Washington continues to be the best state to live, work, learn, and raise our families. I hope you'll join our efforts to shape the future of our great state. #NXTGENWA"
We have covered this a few times, and parts of this are drawn from past newsletters. For a "greatest hits" you can visit
June 30th email, "Attacks on Jinyoung Lee Englund"