Click here to return to the table of contents
Community Treasures: Republican Conservation Under Siege
By Frank Penwell
March 2017
Frank Penwell is the founder of Community Treasures, a long time conservative conservationist, leader in CAPR, Grange 225, and the Republican Party. More details can be found on communitytreasuresfridayharbor (or click the link). -editor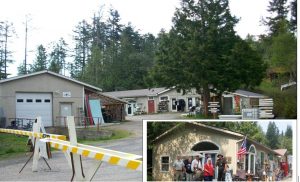 The value of Community Treasures (CT) in our community is in its actions and its philosophy:
1) Believing that there is that of God in everyone, so having tolerance toward others and looking for it.
2) Understanding that not all truths are known, so we need to listen and learn from others.
3) Moving ahead in life as the way opens by having patience and grace.
4) Being charitable and giving back to the community that gives to you.
For over 13 years we have modeled this philosophy by spending an average of $2,000 per month to supply free items to nonprofits, service organizations, and those in need. We provide scholarships and donations to support community programs and education. For years CT was the largest contributor to "Dollars For Scholars" Scholarships, and in 2016 CT provided $3,000 to the Spring Street Recovery House, and $2000 to the Prevention Coalition.
Funds for these charitable activities come from individuals in the community who donate to the CT Thrift shop and who use CT's recycling services. We hope to continue to fund monthly community programs that will promote tolerance and protect our liberties.
We also provide vital conservation services to our community. In 2016, CT recycled approximately 500 tons of recycling, which includes over 168,000 lbs of e-recycling.  Other recycling includes white goods, steel, precious metals, wood, plastic, aluminum cans, clothes, thrift shop items and more.
These "Boots on the ground conservation" actions have operated for 13 years in a fiscally responsible manner without the use of tax dollars. Due to our conservative politics, CT's operations have been met with County regulatory resistance, stonewalling, and broken promises. These actions are inconsistent with State WACs and RCWs that were designed and legislated to protect Essential Public Facility sites.
The county has consistently refused to zone our location as "conforming." This causes us excess fines and leaves our business uncertain going forward should the county decide to use its clout to bully us. If the County government decides to make CT's activities conforming, CT can one day become a permanent community fixture.
We need to advocate with our voices and be involved in organizations that underscore and model in deeds and actions our values. Come join Community Treasures and Friday Harbor Grange #225 and pitch in!
Conservatives are never going to win over the hearts and minds of others by arguing about whose values are better. Winning over another's heart and mind can be done by modeling and promoting values that work and are effective life changers.
Frank welcomes your comment and requests for information at frank.pat.penwell@gmail.com.   
---
Community Treasures in the news: 
San Juan Journal, March 8, 2017: "Community Treasure Permit Battle Discussed at Council"
San Juan Journal, Dec 27, 2016: "Friday Harbor Grange Wants to Save Consignment Treasures"
San Juan Journal, April 19, 2017: "Community Treasures Cancels state e-recycling contract"