Greetings Conservatives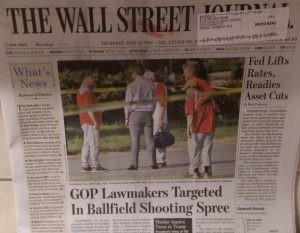 In light of the recent attacks
We wish to first express our sincerest condolences to those affected
We reiterate that the SJC Republican Party is open for business.
Although this is a very liberal county, we reiterate that we are publicly willing to stand behind our membership in the Republican Party
Nathan Butler (SJI) — Chairman
nathanaelbutler@gmail.com   (c) 360-298-4489
Lynda Lee Gerpheide (Lopez) — Vice Chair
Alex Gavora (SJI) — Treasurer
Cindy Carter (Orcas) — State Committeewoman
Rick Boucher (Orcas) — State Committeeman
Minnie Knych (SJI) — Secretary
---
Welcome to our New Newsletter! 
This week we completed a major update of our mailing list. If you are receiving this for the first time, that may be why. It includes collected data from the Lincoln Day event, Caucus, membership dues, and more. In light of the shootings this week it seems a propitious time for this update: we want to tell as many people as possible that we are here, and that we are serious about conservative principles.
That said, if you wish to unsubscribe, please email me at sjcrpchair@gmail.com. I will remove you, no questions asked. You can see examples of the newsletters that I send out weekly (rarely more) from last week, the week before, or just scroll through our website sjcrp.org. It typically has one or two discussion topics, a listing of local and state news, and a county calendar. This is an unusually long newsletter, most are much shorter.
Announcing our Next Event: July 15th, SJI
I am very happy to announce that our next event will be on Saturday July 15th. It will be at Earthbox in Friday Harbor (which does have AC, for those who are curious). We are fortunate to have Ed Kilduff speak to us. He cleared his schedule to make sure he was available.
Mr. Kilduff is a hydrologist, board member of Community Treasures, and has spoken on the radio and at other events on water issues in WA state. In light of the Hirst decision this seems a good choice. It will be a great time to get together as conservatives and learn something while we're at it. It marks our commitment to being more active in our community, and to hold more events.
Please mark the date! More details forthcoming.
"Sanctuary County" and the San Juans
Our State Committeeman Rick Boucher was in the ferry line waiting to go to the legislative district meeting this week and had the following encounter: "I went to the Dump on Orcas last Sunday afternoon. A Gal was there collecting signatures. It appeared that at each vehicle to approach the pay booth she approached and asked the following question while the driver was waiting to move forward.
"I'll make this real simple for you.  Do you support the immigration policies of President Trump?"  I said, "Yes."
She said, "Then I don't want to talk to you." And walked away.  I was not presented with the petition to sign." [end]
Sure enough, this week in the Islands Weekly: "Immigrant Rights Group protects local immigrants." Firstly, this is highly misleading. They may be trying to protect illegal immigrants, which is not the same thing as "local immigrants." I know this because many legal immigrants came to our Lincoln Day dinners and talked to me. Nobody dislikes illegal immigration more than legal immigrants. Much like affirmative action, it casts a pall on those who legitimately succeed.
It would be nice to see some pushback from conservatives on this issue.
On this subject, a Bill Clinton video has been circulating through conservative email and social media. (CPAN). The instructions are "Donald Trump should just televise this Bill Clinton speech from 1995 and then simply state "I'm Donald Trump and I approve this message…" Not one word of commentary needs to be added." It's a very short video, about 84 seconds.
Local and State News Digest
We have a listing of local news sources on the website here, including emails for editors to submit letters. It was updated this week. For those of you who are new, my posting a link here does not mean I endorse the article. In fact, many times I post them specifically so that Republicans can reply to them.
Michelle Loftus posted on our website "Want to make more for doing less? Ask Planned Parenthood how," and "Why the ACLU and Democrats are targeting Catholic Hospitals."
County Council OKs Clure property purchase by San Juan County Land Bank (Journal of the San Juans, in the Sounder here and Islands Weekly here). Note also the Trails Committee minutes here.
Some county education and health services may move off island (Journal of the San Juans).
Our own PCO Barry Cave had a letter published on the affordable housing debate. (Journal of the San Juans).
County officials discuss how to protect orcas (Sounder reports).
Opposition to Kinder-Morgan oil pipeline in a letter here. (Sounder, also in the Journal here).
Sea level rise in the San Juans (Islands Weekly).
Attorney Steve Brandli applies to be San Juan County Superior Court Judge (Islands Weekly)
Want to pay more income tax? Seattle is considering its very own income tax for those who just love taxes. Does anybody want to guess how long it will take for the threshold to be lowered? (Seattle Times reports)
A teenager had his Trump t-shirt photoshopped out in his yearbook photo. It just goes to show how negatively the left views Trump: they are treating support for President Trump as hate speech or a racist slogan. Amazing, really. I usually avoid national news since it's better covered elsewhere, but I couldn't resist posting this. I appreciated that USA Today covered this.
The Seattle Times ran an article this week about illegal immigrants using WA State to get into Canada.
County Calendar 
Marine Resources Sub-Committee Meeting
June 21, 2017, 8:30 AM - 10:30 AM @ Meetings on even numbered months are held at Islanders Bank annex, Friday Harbor; odd numbered months are held at the County meeting room at Orcas Landing
Board of Health Meeting
June 21, 2017, 11:30 AM - 1:30 PM @ Council Hearing Room
Marine Resources Executive Sub-Committee Meeting
June 22, 2017, 11:30 AM - 1:30 PM @ Small Legislative Conference Room

Building Advisory Council Meeting
June 22, 2017, 11:45 AM - 1:00 PM @ Large Legislative Conference Room
SJCPHD #1 Special Meeting/Work Session
June 23, 2017, 2:00 pm @ Frank Wilson Memorial EMS Building
SJCPHD #1 Board Meeting 
June 28, 2017, starting at 5:00 p.m. @ 55 Second Street, Friday Harbor, WA.
Solid Waste Advisory Committee Meeting
June 29, 2017, 8:30 AM - 10:30 AM @ Large Legislative Conference Room
Veterans Advisory Board Meeting
June 30, 2017, 11:45 AM - 1:45 PM @ Large Legislative Conference Room