Greetings Conservatives!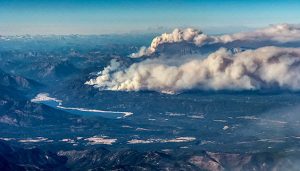 Picture: central washington on fire
This week is short and sweet. I have no announcements to make, and no issue to spotlight.
Local News Digest
"San Juan County settles with alleged assault victim." (Journal) The county admitted no fault, and settled for a very small amount of money. If there was really a case, the settlement would have been much higher. The county risk pool apparently decided to settle.
Whatever else he may be, Ron Krebs seems a very decent person, so it would take quite a bit for me to believe allegations of wrongdoing — and there seems to be very little evidence to convince me otherwise.
"San Juan Island School District teachers' strike ends" (Journal) Now school can start.
"League of Women Voters holds comp. plan forum." (Journal) It will be on Sept 11th. From the text: "The comprehensive plan update will set the growth policies and goals for the county for the next 20 years with updates to the plan being required every 10 years." It would be good to have conservatives at least observing what is happening, and if you attend please send me a report.
Hunting season is here. (Journal) We have a very serious problem with deer right now, their numbers are high, and as a result they are in poor health. They also pose serious hazards to human health via diseases that transmit through the vector of animals like deer (e.g. Lyme Disease), and as direct hazards to motorists.
Be careful of the wildfire smoke, especially if you have compromised health and/or are elderly. This article has helpful guidelines and resources. (Sounder) If you want to see some footage from around the state, Seattle Times posted some footage here. Apparently ash was actually falling like snow in Seattle.
There have been a couple of letters on housing: David Gow in the Guardian and Gay Graham of SJ Community Home Trust.
Even as Tim Eyman's initiative to reduce the car tab tax to $30, Washington state is planning to test a pay-by-the-mile scheme to cover lost revenue due to improving fuel efficiency. It's like a game of wack-a-mole.
There have been a few articles and letters following our signed statement on harassment at the fair.
As I circulated last week, Martha Fuller commented (Sounder).
This week Gretchen Allison commented (Journal). Gretchen was polite enough as a person when she came to our booth to protest, so despite how… crazy (dare I say it?) her letter sounds please be polite in return and keep it about the issues.
What is worrying, though, is that as unhinged as her article may seem, it is actually pretty mainstream for liberals right now and many echoed her sentiments in comments. I was amazed by this at the fair.
State and National News Digest
"Havard: Washington's Online Voter System Secure" (Guardian).
I feel I should note that no electronic system is totally secure. Skilled hackers can break into any network given enough time, even military and intelligence agencies.
Even supposedly totally offline networks get compromised from time to time, as in the Stuxnet case — since human error always adds a element of insecurity.
Still, this was reassuring, and an indicator that our sole Republican in statewide office (Kim Wyman) has done well at her job.
Republican Dave Reichert has announced that he is retiring from congress and will not seek reelection in 2018.
In a rare moment of praise for a conservative, the Seattle Times said "It is Reichert, though, who deserves praise for his leadership spanning four decades of public service — as a member of the U.S. Air Force Reserve, a King County deputy and sheriff, and as a congressman."
President Trump has ended President Obama's executive order on dreamers.
While this is the subject of much furious invective, the actual statement was, to quote a friend "both sobering and responsible" in his approach. It's worth reading the actual text, which can be found on the White House website here.  The gist of it was that he wants congress to solve this issue rather than resolving the issue by executive fiat.
It does, however, set a bit of a timebomb if congress cannot resolve the matter, so I doubt we have heard the last of it.
AG Bob Ferguson has joined other states in suing (Ferguson has never found a trendy liberal cause he didn't want to support), though I'm not sure how he has grounds for that. It was an executive order, which can be reversed with an executive order — which is why it's so important that congress deal with this issue in a legal matter.
It was unkind of President Obama to give such temporary and unstable status to dreamers rather than learning to work with congress and resolve the issue in a more legal manner. Now, President Trump must deal with it.
The people affected by this deserve a permanent solution rather than a shaky executive order, or at least deserve to know that they will have to leave. They should not be left in limbo, so I hope congress will act on this to decide the matter one way or the other.
Do you agree or disagree with anything you've read? Check our media contact links, and submit your own letter!  You may also email me (see below). 
Nathan Butler
Chair, San Juan County Republican Party
Email: sjcrpchair@gmail.com
"No matter how conservative your views may be, unless you do something about it you really aren't that conservative."