Republicans Cheered up by Successful Lincoln Day Events!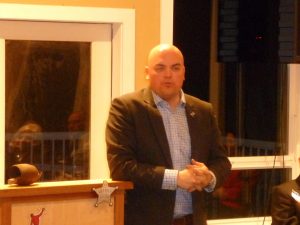 Over 70 attendees on Lopez, over 70 on SJI, and many on Orcas as well — this year's event was a huge success!
Lincoln was a republican who influenced our country in monumental ways. What would he think of today's political climate? March 9&10 republicans gathered across the county to celebrate conservative republican values in great numbers. Events held on Lopez Island, Orcas Island and San Juan Island celebrated the conservative movement that is healing mistakes by a long reign of destructive liberal actions. Funds raised will support San Juan County Republican outreach activities and candidate support.
Speakers included Freedom Foundation representative David Dewhirst, Washington State Senator Doug Erickson and National Committee Woman Fredi Simpson. They encouraged all with stories of progress and diligent work. The movement that elected President Trump recognizes the need for efficient small government systems. Many people are enjoying the results of correcting the overreaching regulations on business. Mr. Dewhirst spoke intensely of destructive unions that inhibit the ability of workers to financially support candidates of their choice through union dues. While unions can provide good services and purpose there are many unions that have become bullies that negatively effect the worker and business environment.
San Juan County Republicans enjoyed a Reagan Ranch theme. Western dress was festive. A belt buckle contest was won by Sandra Frinell. The BBQ chicken and tri tip meal provided by the Golf Club crew led by Micah was a hole in one. The San Juan Golf Club was a great venue. Minnie Knych led the committee for this event. Great job Minnie!
Orcas Republicans led by Cindy Carter and Lopez Republicans led by Lynda Gerpheidi enjoyed their great organizational skills in their LDD events as well. Thank you Cindy and Lynda! Also many thanks go to dozens of volunteers who set up, decorated, baked desserts and provided support. The San Juan County Republican Chair Nathan Butler who kept everything on track with three events on three islands in one weekend deserves our praise greatly.
Thank you San Juan County Republicans! More events to come soon!
Michelle Loftus
Postscript — This year's event was a success because of the many people who pitched in. I can claim little credit! But I am grateful to have been a part of such an energetic, Reagan-like crew of people! — Chairman Butler